When:
September 15, 2019 @ 11:00 am – 9:00 pm
2019-09-15T11:00:00-07:00
2019-09-15T21:00:00-07:00
Where:
Mt. Hood Brewing Co.

Dichotomy Release Event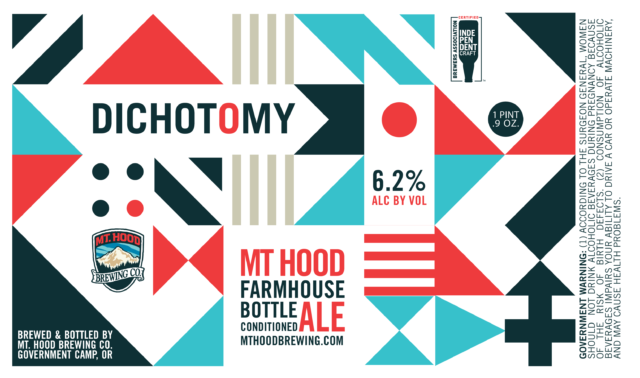 Swing by either Mt. Hood Brewing location on Sunday, Sept. 15, to try out our new seasonal release, DICHOTOMY Bottle-Conditioned Farmhouse Ale. Our Government Camp and Portland locations will be open 11am – 9pm.
DICHOTOMY is a saison, or farmhouse ale, elegant in its simplicity – we use Belgian pilsner malt and various malted and unmalted grains to compliment the distinctive yeast profile. Bottle conditioning results in a beer with a finer, silkier texture of carbonation, superior foam retention, more complex flavors, longer shelf life, and better aging ability than beers that are "force carbonated."
Saison is the French word for "season" and the style initially developed as farmers used excess grain from the prior year's harvest to brew beers to be consumed during the upcoming summer. What once was a farmhouse style developed into a commercial product as the industrial revolution hit Western Europe, and all but died out during the consolidations of the mid-1900s. Thankfully, there is a small brewery in Southern Belgium in a region called Wallonia that kept the tradition alive up until the craft beer revolution could increase it is popularity. Today we recognize Brasserie Dupont as that brewery. Many other yeast strains have been isolated from breweries that have made saisons for decades, but we use the one and only Brasserie Dupont strain in our Dichotomy. The brewery also makes its own cheese, and the town of Tourpes, where the brewery is located, is famous for its pork.
We hope this beer will become a popular choice for those seeking something crisp and refreshing yet complex and interesting. Enjoy!
Purchase by the 500ml bottle or case of 12 for a limited time only. We'll also be featuring food specials at both locations and introducing custom Dichotomy t-shirts also available for purchase.